A case study on how PR can work for a small business anywhere in the world
So I guess it's safe to let the word out by now that I along with 40 others from Skibbereen had the opportunity to take part in this year's Britain's Got Talent auditions in London! This story is a great example of what I spoke about in my last blog about making PR work for business, because my client Seán Murray (Sean Murray Fashions) is the epitome of how PR can and does work. I began working with Seán a number of years ago when he and his wife Maria asked for help in building awareness of their lingerie department. They were running out of ideas of getting word out there and having never tried PR before they felt they had nothing to lose by at least having a conversation about it. I guess you could say that the rest is history because I can easily say that for a small business who never used PR before, Seán and Maria just got it from the start. They weren't afraid of any ideas presented and instead of saying "no way" they said "let's do it" and not only built on them but really lived and breathed every campaign we have worked on together.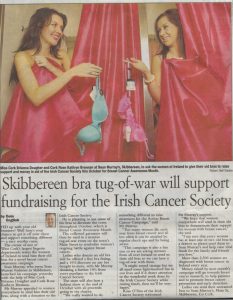 The whole "bra thing" started in 2011 with Ireland's first 'bra tug of war' to raise money for the Irish Cancer Society during breast cancer awareness month in October. After a call out for old bras, women from all over Ireland sent theirs to the shop, many with donations, and on the October bank holiday weekend Ireland's first bra tug of war was held on Main St. Skibbereen. The result was lots of money  raised for breast cancer awareness and national publicity for Seán Murray Fashions and the lingerie department (which by the way is the largest in West Cork!) The following year the challenge was set to come up with something bigger and bolder and that's where the idea of entering the Guinness Book of World Records came from. After some research it was decided that Seán would attempt to break the current record of opening 69 bras in 60 seconds and so began another hard driven PR campaign by yours truly and some long days and nights of practise by Seán. We achieved coverage in almost every national newspaper and radio station as well as features on TV, so the scene was set and the pressure was on. Watch Sean on Ireland AM Seán managed to open 91 bras and entered the record books and so came more publicity, interview and phone calls from not only Irish media but from Canada, the US and in 2015, the UK! See Sean entering the Record Books! Late last year a call came through for Seán to audition for Britain's Got Talent and after a lot of planning and more practise time, he and 40 locals made up of men and women boarded a flight on a cold, wet January morning to take to the stage in London in front of Simon Cowell,  Amanda Holden, Alesha Dixon and David Walliams.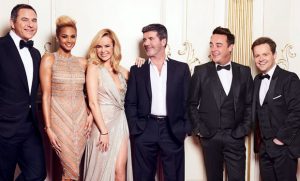 In Seán's words, "we went with the attitude of embracing the unknown, and would be happy as long as we weren't  X'd or "booed off, so as far as we're concerned, we went, we conquered, and the fact that we weren't aired on the actual show is now just a minor detail." So what happened on the day you ask!? Sean got FOUR YES's and along with the audience of over 3000, a standing ovation.  Simon Cowell commended him on what he had done to raise awareness for breast cancer and said that he would love to have the group back to attempt a new world record live on TV and raise more awareness which sadly didn't happen in the end.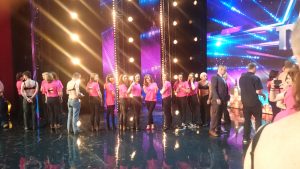 The bottom line is that when you are bold and brave, amazing things happen, in life and PR!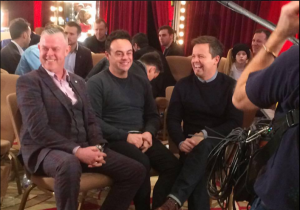 Seán could easily have said "no way" but he chose to say "let's do it" and in so doing raised lots of money and awareness for breast cancer and achieved huge national and international exposure for his store in the beautiful West Cork town of Skibbereen. As I said in the last post - "He who dares, wins!"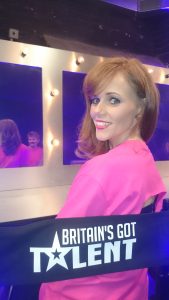 If you want to find out how your business can reach its full PR potential feel free to contact me for a no obligation chat here Don't wait - act now!